We likely still have a few weeks of mild weather ahead of us, but you can't miss the signs. The trees are dropping leaves. Birds are turning south. Starbucks has pumpkin spice. Fall is here, and winter is coming.
Consider Investing in a Smart Thermostat
If you like being smart, you can help to keep energy bills down by investing in a Smart Thermostat. A smart thermostat is one that can be programmed to raise and lower the temperature of the home depending on the time of day. Some will even have Wi-Fi enabled, so you can control the temperature from your smartphone.
Optimal Temperatures:
Keep Watching Those Energy Bills
If you do a good job of attending to the thermostat, your energy bills should remain reasonable throughout the winter. If those energy bills start to spike, your home has what we call an efficiency deficiency. Check for drafts around doors and windows, and be sure your thermostat is working properly. Check the insulation in your attic as well and make sure you're not letting your precious home heat escape too easily.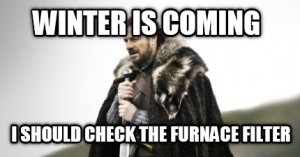 Book an Appointment with A Furnace Pro
It's probably no surprise to anyone that we get busy in the wintertime. Winter is cold, and furnaces keep you warm. Maybe it's obvious, but some people are just smarter than the rest. They check the furnace in the autumn season, and book their appointments early. They can replace filters if needed, and feel confident that they'll be toasty and warm throughout the winter season.
Booking with an expert also means you will be aware of energy efficiency issues before they become a problem.
If you're on Vancouver Island close to Duncan BC, do yourself a favor and call us today.