Recently this month, Exchangenergy Inc. was featured in the Business Examiner, a monthly digest for local business news. Read on to see what was said about us, or click here to view the original PDF.
No matter what kind of heating, cooling or ventilation system residential or commercial Exchangenergy Inc. in Duncan does it all. The highly regarded company installs high quality heating systems, and has its own sheet metal shop, enabling it to cater to the most intricate challenges in the trade.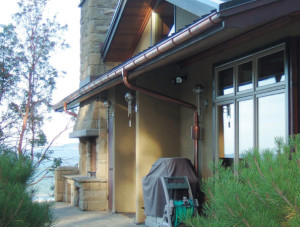 We put all our energy into efficiency! said company president Will Atkins. Although radiant floor heating and geothermal are becoming ever more popular, the most common heating systems we install are ducted heat pump systems. It's the best way to heat your home in this temperate West Coast climate.
Exchangenergy is well known in the construction industry in the Cowichan Valley, and the company's reputation is keeping it busier than ever.
We serve a large share of custom homes in the Valley, Atkins said. "Many of the most reputable custom home contractors continue to rely on us for their client's comfort levels." The houses Exchangenergy has been involved with have won multiple awards for homebuilding from the Canadian Home Builder Association, including Georgie and CARE Awards.
Asked why his company is so popular and in such high demand, Atkins said, "We deliver top quality systems, from design to install, to commissioning, all the way to handing over the finished product to our clients. It's the full package. Our systems are well thought out and consistent. But overall, the value of each system we produce is what keeps us performing at the level we do. Dollar for dollar, it just has to make sense." He added that "Exchangenergy is also known for working on deadlines, even when they are challenging. We have a good sized, well trained and dedicated crew, and because of that, we can make sure that we meet these deadlines on budget."
Today, people's needs vary from house to house. Some might be concerned with allergies, others air conditioning, filtration, or specific heating requirements. Listening and understanding the owner's needs is paramount, Atkins said. The company takes the time needed to ensure that all the rooms are evenly heated and cooled, and that the right air filtration for each person has been met.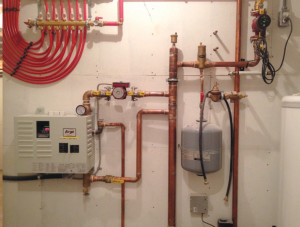 Exchangenergy designs and installs HVAC systems for commercial buildings too. Projects in the last year have included private schools, farmers markets, chiropractic, doctors and dentist offices, nurseries, breweries, computer labs, multi-story professional buildings and food manufacturing plants, each with their specific needs.
Atkins began working in the HVAC industry in 2003. In 2007, he bought into the new Exchangenergy company founded by two former colleagues. A few years later he became sole owner. In the beginning, Exchangenergy focused on geothermal energy. Over time, the company evolved to meet the demand for alternate heating and cooling systems. The demand for air source heat pumps grew in particular. Exchangenergy installs the highly-regarded brands Daikin, Carrier and Rheem. Atkins noted that he and his technicians are rigorously trained on all the brands they carry. From its roots in geothermal, Exchangenergy has always been adamant that its systems are of the highest efficiency, from the greenest facilities, and that its business structure represents a clean and sustainable company.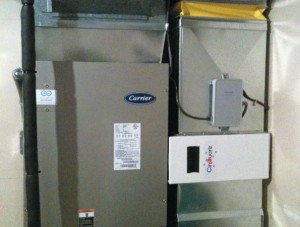 The Exchangenergy team consists of journeymen refrigeration and sheet metal mechanics, each with their appropriate apprentices. Atkins said that it's important that everyone is up to date in schooling and training, as well as staying ahead of the curve in regards to new technology and code changes.
"The field is constantly changing. We are always taking courses, continuing education, updating certificates, and applying the new information to the way we do business."
The company is trained, qualified and proficient in the following systems: heat pumps, ductless split systems, in floor heating, geothermal, boilers, heat recovery ventilation (HRV) systems, gas furnaces and airwater heat pumps.
Exhangenergy works on every kind of heating, cooling and ventilation system
The majority of systems installed in well-constructed houses across the Cowichan Valley are ducted heat pump systems. Heat pump systems historically have been twice as efficient as electric baseboard heat, but with recent technological advances, they have become almost three times as efficient. This results in an even quicker payback period.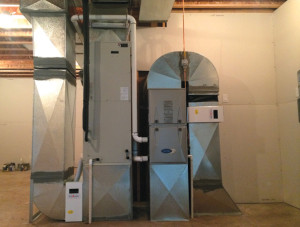 New technology helping the heat pump industry, like inverter drive compressors, communicating thermostats and variable speed fans have increased the comfort levels and air quality in homes, while shaving utility costs down to the bare minimum.
Atkins said that every product used is well built, while quality is top of mind in every job the company does. EnergyStar products and sustainable material is always first on his list.
As Exchangenergy moves into the future it will continue to define its strengths. "We are always looking at keeping prices suppressed, while producing ever finer packages for our clients," Atkins said. "We spend a lot of time making sure things are just right."
Will Atkins (with his family) says the company makes sure that every job is done right
Will Atkins
President, Exchangenergy Inc.
Exchangenergy Inc. is located at 5150 Lee Road in Duncan.
Click here to view the original PDF as it appeared in the Business Examiner.