While it may not feel like it quite yet, spring has officially arrived. That means it's time to start thinking about the warm weather ahead, particularly if last year is any indication: The summer of 2015 was one of the warmest British Columbia has ever experienced, with several temperature records being smashed in the process. Following these five tips will give you piece of mind that your system is prepared for what's to come.
Assess The Area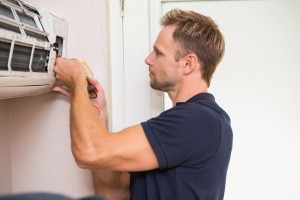 While outdoor AC components are designed to withstand harsh winters, it's a good idea to check your unit for any damage that may have occurred during its time off. Also, be sure to clear out any debris that may have gathered in and around your unit and trim back any nearby brush, trees, or vines. Maintaining at least one yard of open space around the unit is a good rule of thumb.
Change Air Filters
Regularly replacing your cooling system's air filters is always a good idea, particularly if your system has been inactive, allowing mould, dust, dander and other nasty allergens to settle in your ductwork. Plus, clogged filters reduce your air conditioner's operating efficiency, meaning it costs more to run your system. If you're still having issues with allergens after changing your air filter, talk to an Energy Exchange expert about installing an air purification and ventilation system that will ensure your home's air is fresh and healthy.
Test Your System
Although it's still a bit chilly, we recommend giving your air conditioner a test drive before warmer weather truly arrives. To do so, drop your thermostat's temperature a few degrees and switch your system to the cool setting. While inside your home, take notice of whether your system turns on and produces cool air quickly, that it properly cycles, and that it doesn't stop prematurely. Also, head outside and listen for any unusual sounds, such as whirring or grinding, coming from your condenser unit. If any aspect of your system is behaving differently than you remember, it's probably time for a professional inspection.
Adjust Cooling Program
Programmable thermostats are a no-stress way to keep your home comfortable while making sure your cooling system only runs when necessary. If your spring and summer schedule has changed since last year, or if you've already planned a lengthy vacation, adjusting your cooling program now will be one less thing to worry about. Plus, it will reduce wear on your system while saving you money on your utility bills.
Get An Expert Opinion
The hotter the temperature, the more stress is placed on your AC, pushing units in less than optimal condition past their breaking point. If you'd like to rest easy knowing your cooling system will perform beautifully on even the most sweltering of summer days, schedule a spring check-up for your system today.