No matter how much we want to pretend it isn?t, winter is just around the corner and yes, it?s time to get out the checklists to get your home ready for the blustery winter winds we all expect here on Vancouver Island. Likely you?ve heard that the Farmer?s Almanac is calling for one of the coldest winters on record here, so we should expect chilly rainstorms, and more than usual snow too.
Winterizing your home before it gets super cold, can help you save on heating bills, make your home more comfortable, and help prevent making insurance claims that will just make your future premiums spike.
Tip #1 Inspect Your HVAC System
Schedule your annual inspection of your HVAC system to make sure it is in proper working order. If possible, try and schedule your appointment well before the winter months so that you can avoid the rush of customers doing the same thing.?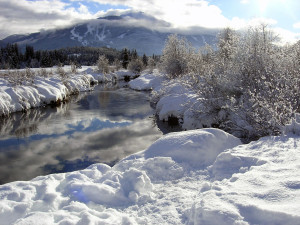 Tip #2 Change Your Filters
Change the filter on your heating system unless you intend to ask the service technician to do so for you. Why? It?s simple really: having a clean filter allows air to move more easily through your ducting, and therefore your heating system functions more efficiently.
Tip #3 Check Your Ducts
If you haven?t had the ductwork checked in the last 3 years, now is the time to do so. Leaky ducts, dust build up, spider webs, and other unmentionable critters all reduce the efficiency of your heating system, increase your heating bills, reduce the comfort of your home, and increase the airborne particulate that tend to keep your family sick all winter.
Tip #4 Test Your Carbon Monoxide Detector
First off, if you don?t have a carbon monoxide detector, get one now. You can get a relatively inexpensive one at your favourite box store, or try the Nest Protect - you can get ones that require no wiring and install in minutes. If you do have one, test it, it takes seconds to do and can save your family?s lives. Carbon dioxide is called the silent killer for good reason. It?s colourless, and odourless, and strikes without warning - especially in winter when our homes are sealed up.
Tip #5 Clean Your Chimney
Do you like to have a nice fire going in winter? Well a dirty chimney can cause two problems: 1) reduce the efficiency of the heat you?re trying to generate, and 2) increase the likelihood of your house catching on fire by igniting the creosote buildup in your chimney. Get them to check that your bricks are secure while they?re in there too.
Tip #6 Upgrade Your Insulation
Now before you dismiss this one as a bad, or expensive idea. Upgrading the insulation in your attic has been hailed by many as the upgrade with the highest ROI. Heat escapes your home through the attic. Plugging that leak can increase your home?s heating efficiency.
Tip #7 Protect Your Outside Water Supply
Turn off the water supply to your outside faucets from the inside of your house, while also turning off the faucet from the exterior of the home. Check for cracks or holes around the fittings that enter your home and use caulk to seal any you find.
Sometimes a list like this can be overwhelming to tackle all alone. Give us a call. At Exchange Energy we are experts at handling winterization for you and your home, and we would be happy to help however we can.
In our next article, we will consider another 7 tips to winterize your home this winter! We hope you?ll join us for more.